Our Verdict
It's a little cocoon at the end of a frantic day (hey, you earned it). Perfect for when you've overdone it at the gym, your spin class has left you barely able to move, or even after a day sitting in front of your computer that has left your neck and shoulders stiff.
This little packet of therapeutic herbal bath from Elemis has the perfect blend of recovery, relaxation, and self-care which is sorely needed (pun intended) after a tough workout or a particularly testing work day.
Elemis Musclease Herbal Bath Synergy features a unique spray-dried synergy of Algae, Maritime Pine and Rosemary Essential Oil to revitalize aching muscles, relieve tension, and soothe joints.
This bath soak combines sea plants with pure aroma — it smells as if you just found a hot tub in the middle of a Mediterranean forest by the sea.
Results: you will be back on your feet and ready for round two the following day.
Scroll down to soak in some well deserved "me time".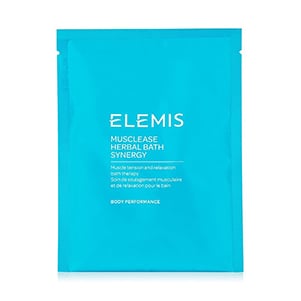 Elemis Musclease Herbal Bath Synergy
Price: (10 x 30g/1 oz)
Summary
WE LIKE
Instantly soothes achy muscles and joints.
Warming sensation relaxes tense shoulders and neck muscles.
Individually packaged sachet is super convenient; just sprinkle one entire sachet into bath water for a luxurious, regenerating soak.
Travel-friendly bath soak, ideal for those walking-around-all-day vacations (just throw a few packets into your suitcase and you're good to go with not a spill in sight).
WE DON'T LIKE
Expensive post-workout soak (one sachet equals one bath treatment).
WHERE TO BUY IT
At a glance
Formulated WITHOUT:
Parabens
SLS/ SLES
Mineral Oils
Artificial Colors
Silicones
Key ingredients
Maritime Pine; soothes and protects stressed skin from harmful toxins and improves the overall appearance of skin
Bladderwrack (seaweed); moisturizes and provides essential minerals and trace elements
Rosemary Essential Oil; invigorates, tones and reduces swelling and puffiness
Sea Salt; exfoliates skin, revealing smoother and purified skin
Ethics: Values that the brand embraces
ORGANIC
CRUELTY FREE
VEGAN
ECO FRIENDLY
One month with Elemis Musclease Herbal Bath Synergy
We might have found one of the best post-workout therapy baths for sore muscles.
We don't know about you but when we exercise, we like to go full on (as in boot camp sessions that leave us wobbling around like a duck). So, when we heard about this therapeutic soak from Elemis that relieve tired, overtaxed muscles while restoring balance and vitality to skin, we knew we only had one option: take the plunge!
The scent alone was enough to transform our mood and sink into bliss. We mean, this bath soak smells like a luxurious vacay in coastal Mediterranean forests.
Elemis Musclease Herbal Bath Synergy comforts and recharges the body with a fusion of warming Maritime Pine, Rosemary Essential Oil, and Mineral-loaded Algae.
The beauty continues when we empty the sachet into the tub. This deeply stimulating and relaxing soak left us feeling comforted and restored as it relieves achy joints and weary muscles and dissolves tension caused by sport, dance, and work.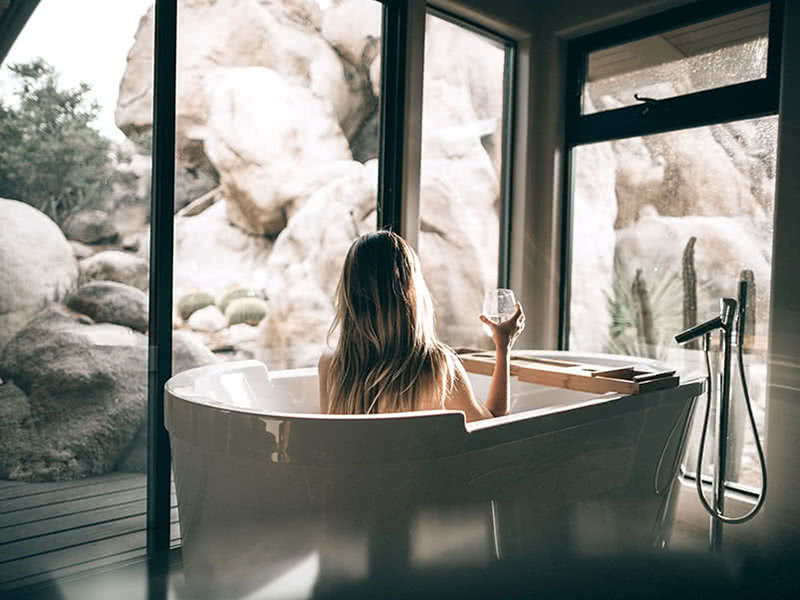 This therapeutic bath releases active ingredients to the body via aroma and skin absorption. After a 20-minute bath, our aching muscles felt significantly less tight.
Designed specifically for use after the sweat fest, this muscle-recovering and relaxation bath therapy is a great addition to any fitness routine. But the truth is we sometimes did it instead of our Friday Happy Hour. After all, this is also an ideal "me time" treat, athlete or not.
We also made sure to drink plenty of water before, during and after this bath to help flush unwanted toxins from our body and stay hydrated.
If we could, we would have an infinite supply of these miracle-workers in our bathroom, if only the price tag was a bit more affordable.
How to use Elemis Musclease Herbal Bath Synergy?
Empty one sachet into running bath water at body temperature. Soak in the bath for 15-20 minutes, concentrating on abdominal breathing first. Rest for a while afterward and then apply Musclease Active Body Concentrate. For best results use 2 sachets a week.
Warning: Do not use this bath soak during pregnancy or whilst breastfeeding or if you have allergies to iodine, seaweed or shellfish. If you suffer from any medical condition please consult your doctor.
Results
Elemis Musclease Herbal Bath Synergy relieves tension, relaxes, and calms body post-workout. This bath soak soothes sore and aching muscles, joints, neck, and shoulders, and refreshes tired skin.
Elemis Musclease Herbal Bath Synergy also helps maintain a safe and effective exercise regimen.
Who it's for
Suitable for all skin types.
Ideal for athletes or those who suffer from frequent muscle spasms.
Ingredients
Sea Salt (Maris Sal), Cyclodextrin, Silica, Maltodextrin, Pinus Pinaster Twig Leaf Oil, Rosmarinus Officinalis (Rosemary) Leaf Oil, Fucus Vesiculosus Extract, Limonene, Linalool, Porphyridium Cruentum Extract.
About Elemis
Founded in 1990, Elemis is a leading luxury British skincare and spa brand owned by L Catterton. Combining powerful, natural ingredients, with cutting-edge technology, Elemis creates advanced aromatherapy, skin care, and professional spa-therapy treatments for face and body.
What's in the box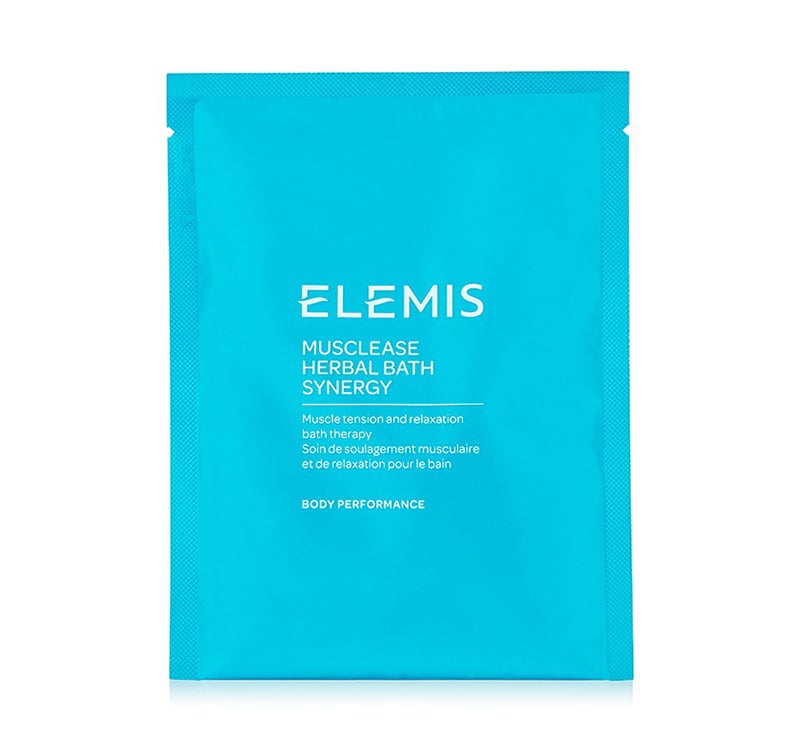 Price: How much does Elemis Musclease Herbal Bath Synergy cost?
This bath soak from Elemis costs
for 10 sachets.
ELEMIS Musclease Herbal Bath Synergy FAQs
Question: How many packets are there per box?
Answer: Elemis Musclease Herbal Bath Synergy includes 10 individually packaged 30g sachets of herbal bath soak, which make for 10 baths.
Question: Can Elemis Musclease Herbal Bath Synergy be used in jetted tubs
Answer: Yes, Elemis Musclease Herbal Bath Synergy is safe for jetted and non-etted tubs.
Question: How can I contact Elemis?
Answer: If you have any questions, Elemis's customer service hotline is 1.855.2.ELEMIS. You can also contact them via their website.
Product reviewed:
Elemis Musclease Herbal Bath Synergy
Our rating: 9.5 / 10
Summary: Elemis Musclease Herbal Bath Synergy features a unique spray-dried synergy of Algae, Maritime Pine and Rosemary Essential Oil to revitalize aching muscles, relieve tension, and soothe joints.
Reviewed by: Samantha Woodworth
Last updated: February 15, 2019

Photos by Beauty Wise Up and Elemis.