Our Verdict
Search for this paraben-free vitamin C serum online and you'll find that it has nearly raving customer reviews everywhere and is possibly the single most-loved product of dermatologists and beauty editors alike.
It promises no miracles, comes in straightforward, clinical packaging, and depending on who you ask, smells like bacon, mushrooms or hot-dog water. We know what you are thinking… But, strangely enough, just like any of the serum's devoted fans, we've grown to love even that about it.
Granted, it's not the sleek and sexy type of product, but boy does this work.
This is one true cult serum to experience.
Loved. Trusted. Multi-award winning. Diligent. SkinCeuticals CE Ferulic Serum is the gold standard in topical antioxidant protection – it literally envelops skin in a protective veil to prevent wrinkles and sun damage and fade dark spots.
The synergistic combination of pure vitamin C (L-ascorbic acid), vitamin E (alpha-tocopherol), and ferulic acid strengthens skin's natural protection from age-inducing free radicals, promotes collagen and unifies skin tone.
Once absorbed, this vitamin C serum remains effective for a minimum of 72 hours (now, that's what we call a hardworking serum).
So just what makes this formulation so life changing? Read on to find out.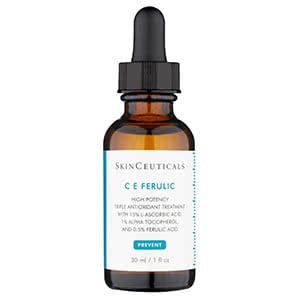 Price:
Summary
WE LIKE
Potent and effective antioxidant serum
Recommended by dermatologists and other skincare professionals
Convenient dropper makes it easier to control the amount used
WE DON'T LIKE
It has a peculiar smell
It is expensive
WHERE TO BUY IT
OTHER NATURAL ANTI-AGING SERUMS
At a glance
Which skin solutions is SkinCeuticals C E Ferulic Serum best for?
ACNE
AGING
DULLNESS
DRY
OILY
SENSITIVE
Formulated WITHOUT
Key ingredients
15% L-ascorbic acid (vitamin C); neutralizes damaging free radicals, encourages collagen production and provides visible anti-aging benefits
1% alpha tocopherol (vitamin E); neutralizes free radicals, soothes and heals sun-damaged skin
0.5% ferulic acid; stabilizes and enhances the antioxidant benefits of vitamins C and E
Ethics: Values that the brand embraces
ORGANIC
CRUELTY FREE
VEGAN
ECO FRIENDLY
One month with SkinCeuticals C E Ferulic Serum
Skinceuticals C E Ferulic Serum has become our essential morning pick-me-up for the face.
We were pretty sure there was some sort of dark magic involved with this best-selling anti-aging serum. But we now know what makes this powerhouse antioxidant serum so incredibly powerful: cold, hard, honest science.
The ingredients list couldn't be more straightforward (or perfect): the SkinCeuticals C E Ferulic's 12-ingredient formula packs potent antioxidants to strengthen and protect skin against environmental damage, helping to neutralize free radicals, reduce visible signs of aging while brightening the complexion.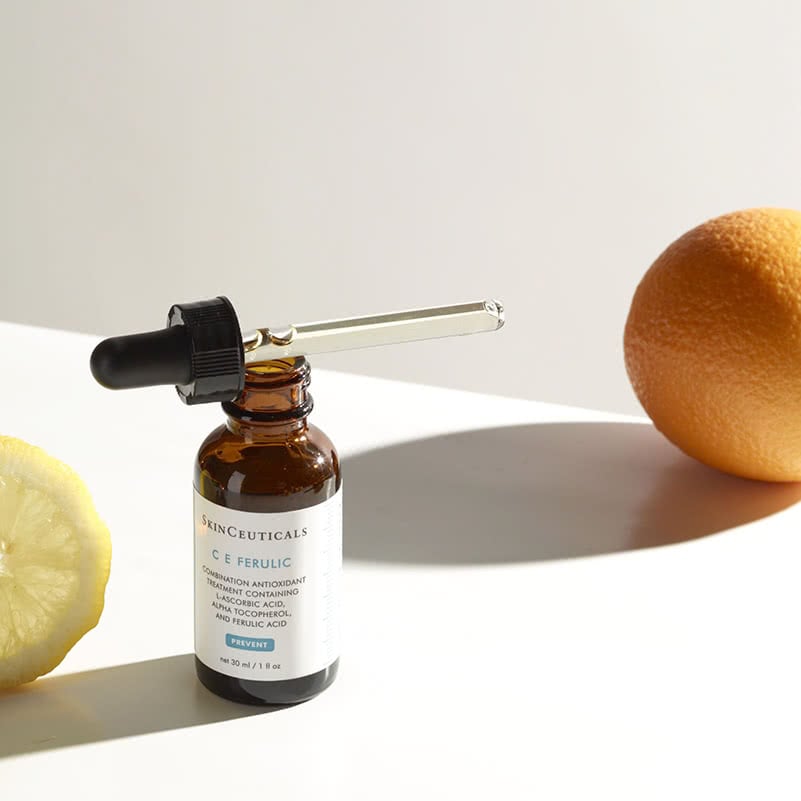 It contains an ideal blend of 15% pure L-Ascorbic Acid (brightening vitamin C), 1% soothing vitamin E and 0.5% Ferulic Acid.
Here's how it works: these three antioxidants are powerful skin-savers on their own, but together, they boost the antioxidant power of each other, evening out skin tone and texture, supercharging the skin-brightening perks and providing yet another layer of defense against environmental stressors.
The potent combination boosts the power of SPF so we apply a few drops of this serum every morning and follow with sunscreen.
The clear, pale-yellow liquid texture is lightweight but while it is slightly sticky at first, it absorbed quickly.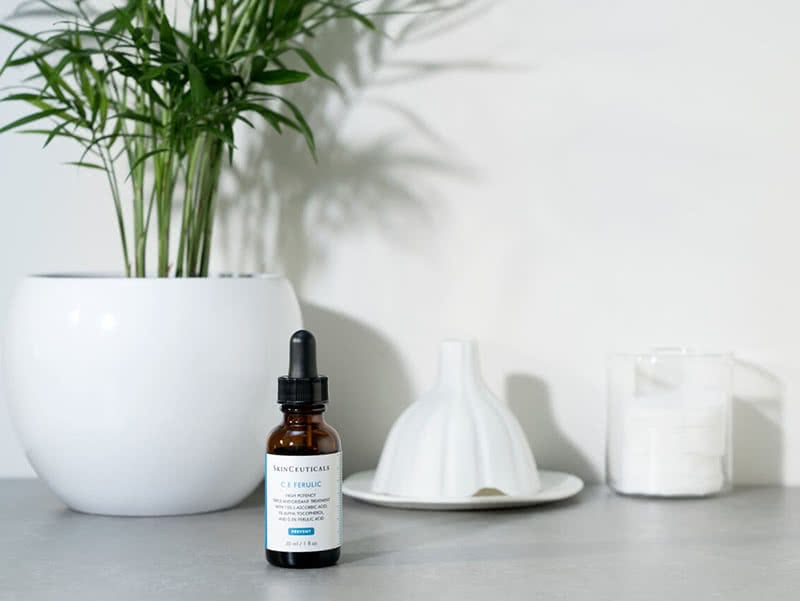 The scent is not the most pleasant but (fortunately) it fades quickly.
After one week of using it—ONE—our complexion was brighter, radiant, more dewy, supple and healthy-looking overall.
After four weeks of daily use, skin looked visibly firmer, the appearance of fine lines was minimized and dark spots were noticeably reduced.
We love products that give us quick and visible results and keep getting better over time!
We found our serum soulmate.
How to use SkinCeuticals C E Ferulic Serum?
Apply 4-5 drops daily in the morning on cleansed and toned face, neck and décolleté. Gently massage until completely absorbed. Follow with appropriate moisturizer and broad-spectrum sunscreen according to your skin type.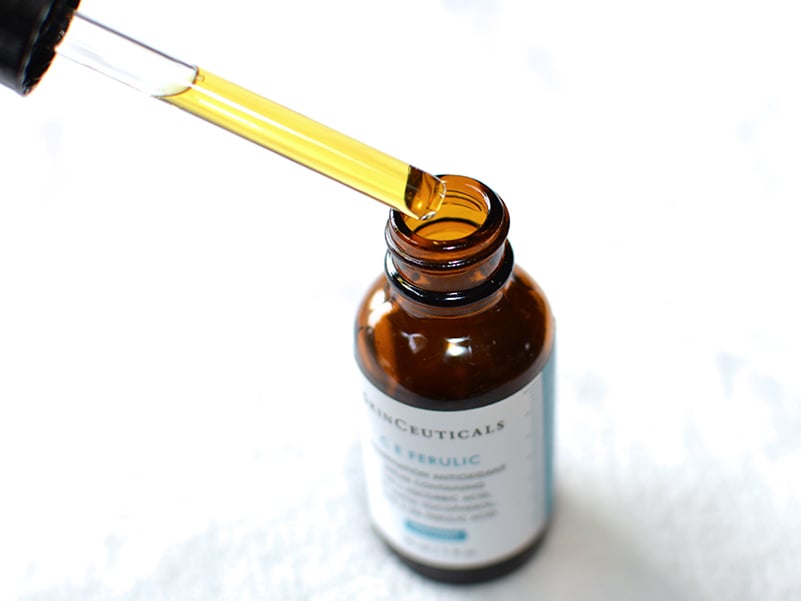 Results
Skin is left looking healthy, radiant and youthful with a dewy glow and brighter, firmer complexion.
Who it's for
Ideal for Dry Skin, Combination Skin, Normal Skin, Sensitive Skin, Mature Skin.
Suitable for use post-laser (always consult with a physician for individual post-procedure care).
Ingredients
Aqua/Water/Eau, Ethoxydiglycol, Ascorbic Acid, Glycerin, Propylene Glycol, Laureth-23, Phenoxyethanol, Tocopherol, Triethanolamine, Ferulic Acid, Panthenol, Sodium Hyaluronate.
About SkinCeuticals
Founded in 1997 by Alden Pinnell and Russell Moon, SkinCeuticals is a cosmeceutical (cosmetics meets pharmaceuticals) skincare brand made in the USA.
SkinCeuticals products are trusted by dermatologists, plastic surgeons, and medi-spas to complement aesthetic procedures and provide effective daily homecare tailored to every skin type.
What's in the box
Size: 1 FL. OZ. (30 ml)
Price: How much does the SkinCeuticals C E Ferulic Serum cost?
This antioxidant serum from SkinCeuticals costs
for 1 FL. OZ. (30 ml).
Other great natural anti-aging serums
SkinCeuticals C E Ferulic Serum FAQs
Question: What color should SkinCeuticals CE Ferulic be?
Answer: SkinCeuticals CE Ferulic Serum can range in color from clear to pale yellow due to the active ingredients. Over time, it will turn to a deep yellow, orange or brown, which means the product is less effective and should soon be replaced.
Question: What does Ferulic Acid do?
Answer: Ferulic Acid is a plant-based antioxidant. When applied topically, Ferulic Acid reduces the effects of damaging free radicals on the skin and thus helps to slow the aging process. It also enhances the stability and the efficacy of vitamins C and E.
Question: The product in my bottle smells bad. Is it normal? Can I still use it?
Answer: SkinCeuticals C E Ferulic does have a peculiar scent to it. For best results, we recommend using the contents of the bottle within 6 months after opening.
Product reviewed:
SkinCeuticals C E Ferulic Serum
Our rating: 9.8 / 10
Summary: SkinCeuticals C E Ferulic Serum is a daytime vitamin C serum that provides environmental protection, improves the appearance of fine lines and wrinkles, firms skin and brightens skin's complexion.
Reviewed by: Ashley Nelson
Last updated: February 16, 2019

Photos by Beauty Wise Up, Hayley D'Onofrio, Bonnie Garner and CAG Photography.