Our Verdict
We love love love this organic, cult serum!
An A-listers' favorite – from Jennifer Lawrence, to Katherine Heigl, Meghan Sparkle and Alicia Keys (yes, it's that good!) – Eminence Bamboo Firming Fluid is like the queen of the anti-aging serum world.
It has a silky, hydrating gel concentrate texture and boy, does it deliver. With its youth-boosting hero ingredients Natural Retinol Alternative complex and Swiss Green Apple Stem Cells, the Bamboo Firming Fluid increases collagen synthesis, helps improve firmness and elasticity and prevents the signs of aging.
A corset-like serum for your face you said? Sign us up!
Price:
Summary
WE LIKE
This potent fluid helps correct signs of aging (such as fine lines and wrinkles) with natural retinol alternative
Light scent that dissipates quickly
This anti-aging serum hydrates the skin and improves elasticity
WE DON'T LIKE
This formula contains comedogenic ingredients, which may cause clogged pores and breakouts for those with acne-prone skin
This product is a bit pricey
WHERE TO BUY IT
OTHER NATURAL SERUMS
At a glance
Which skin solutions is Eminence Bamboo Firming Fluid best for?
ACNE
AGING
DULLNESS
DRY
OILY
SENSITIVE
Formulated WITHOUT
Parabens
Dye
Fragrance
Gluten
Phthalates
Sodium Lauryl Sulfate
Propylene Glycol
Key ingredients
Natural Retinol Alternative Complex (chicory root and tara tree); mimics the conventional retinol to increase collagen synthesis
PhytoCellTec™ Swiss Green Apple Stem Cells; delays the visible signs of aging
Bamboo; contains soluble and insoluble fiber, antioxidants, proteins, vitamins and minerals
Coconut Oil: nourishes and hydrates the skin
Coconut Water; balances pH and tones
Monoi; hydrates and firms the skin
Ethics: Values that the brand embraces
ORGANIC
CRUELTY FREE
VEGAN
ECO FRIENDLY
One month with Eminence Bamboo Firming Fluid
Just like booster supplements for your daily regimen, facial serums can deliver a concentrated level of nutrients that adds extra oomph to our skin.
We found out Eminence Organics Bamboo Firming Fluid is one of the camera-ready and A-glow complexion necessities of former Hollywood actress and now Duchess of Sussex, Meghan Markle.
A best seller for years, we decided it was about time we experience Eminence Bamboo Firming Fluid and see whether this award-winning concentrate truly deserves the crown when it comes to skin care performances.
Our skin felt instantly more hydrated and smooth, but the true magic of this serum reveals itself after a few weeks of continued use.
We did notice that our skin felt a bit tighter than usual and it definitely brighter and more radiant.
The Eminence Bamboo Firming Fluid features a potent formula of proteins, antioxidants, vitamins, and minerals to strengthen the skin and help balance its pH.
Infused with Swiss green apple stem cells, collagen boosting Natural Retinol Alternative Complex (derived from tara tree and chicory root), hydrating coconut oil, strengthening bamboo, hydrating coconut, and moisturizing monoi oil, this serum visibly replenishes moisture, and immediately lifts, tightens and firms the skin.
For even greater results, we prep skin with Eminence Mangosteen Daily Resurfacing Concentrate for a visibly youthful and luminous complexion.
How to use Eminence Bamboo Firming Fluid?
Apply 1-2 pumps of firming fluid to cleansed face, neck and décolletage area once or twice daily. Leave on. Continue your routine by using your favorite moisturizer.
Results
Skin feels noticeably firmer and tighter in seconds.
Skin appears smooth and silky with minimized wrinkles, crow's feet and signs of aging.
Who it's for
Perfect for normal to dry skin types, especially mature
Ingredients
Organic Phytonutrient Blend™ [Aloe Juice*, Kakadu Plum Juice*, Sour Cherry Juice*, Camu Camu Juice*, Lemon Juice*, Apple Juice*, Calendula Flower Extract*, Carrot Extract*, Red Clover Flower Extract*, Coconut Milk*, Grape Seed Extract*, Wild Yam Root Extract*, Rosemary Leaf Extract*, Guar Gum*, Corn Silk Extract*, Soybean Germ Extract*, Citric Acid, Maltodextrin (from Tapioca)* And Citrus Pectin], Chicory Root Oligosaccharides, Vegetable Glycerin, Tara Tree Gum, Vegetable Glycerin*, Glyceryl Stearate, Cetearyl Alcohol, Provitamin B5, Coconut Oil, Coconut Extract, Castor Oil, Rosemary Leaf Extract, Sunflower Seed Oil, Monoi Oil, Bamboo Leaf Extract, Benzyl Alcohol, Dehydroacetic Acid, Swiss Green Apple Fruit Cell Culture Extract, Xanthan Gum, Sodium Alginate, Sodium Benzoate, Potassium Sorbate, Lactic Acid, Vitamin C Ester, Vitamin E, Soy Lecithin, Biocomplex2™ [Acai*, Lemon*, Barbados Cherry*, Indian Gooseberry*, Baobab*, Camu Camu*, Carrot*, Coconut Water*, Goji Berry*, Tapioca Starch (from Cassava Root)*, Alpha Lipoic Acid And Coenzyme Q10], Neroli Flower Oil.
*Certified Organic Ingredient
**Biodynamic® Ingredients From Controlled Demeter Production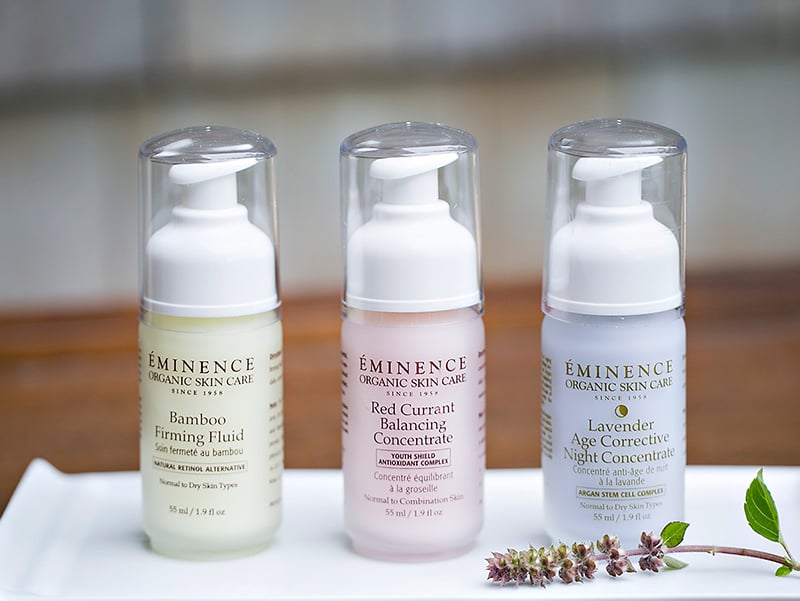 About Eminence
Since its inception in 1958 in Hungary, Eminence Organic Skin Care creates natural, organic and Biodynamic® skin care products. Using sustainable farming and green practices, Eminence Organics skin care products are free of parabens, animal by-products, propylene glycol, sodium lauryl sulfates, harmful colorants and fragrances, mineral oils, petroleum, and other harsh chemicals. Eminence Organic Skin Care is now available worldwide and has a cult following among celebrities and beauty editors alike.
What's in the box
Size: 1.2 oz / 35 ml
Price: How much does the Eminence Bamboo Firming Fluid cost?
This anti-aging serum from Eminence costs
for 1.2 oz (35 ml).
Other natural serums
Eminence Bamboo Firming Fluid FAQs
Question: Is Eminence vegan?
Answer: Eminence does have a variety of vegan skin care products.
Question: Is Eminence non-comedogenic?
Answer: Not entirely. Eminence has non-comedogenic skin care items formulated to not clog your pores but others aren't.
Question: Is Eminence organic?
Answer: Yes, Eminence is a natural skin care line made from 100% organically grown ingredients. Eminence sources premium ingredients from organic farms worldwide.
Question: How can I contact Eminence?
Answer: If you have any questions, Eminence's customer service hotline is 1-888-747-6342. You can also contact them via their website.
Product reviewed:
Eminence Bamboo Firming Fluid
Our rating: 9.2 / 10
Summary: With its youth-boosting hero ingredients Natural Retinol Alternative complex and Swiss Green Apple Stem Cells, the Bamboo Firming Fluid increases collagen synthesis, helps improve firmness and elasticity and prevents the signs of aging.
Reviewed by: Ashley Nelson
Last updated: February 15, 2019

Photos by Beauty Wise Up and Eminence.