Our Verdict
There is so much to love about La Roche-Posay Anthelios Melt-In Sunscreen Milk SPF 60 – it is oil-free, fragrance-free, non-comedogenic, and provides pretty hefty sun protection.
Plus, this lightweight sunscreen can be used for face and body – double win.
It's called melt-in sunscreen milk for a reason – it's smooth, literally melts into your skin without any white overcoat. The silky finish makes this a good sunscreen to wear on its own or under your makeup.
Perfect score! And no more excuses to skip out on wearing sunscreen.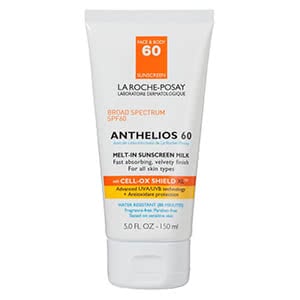 La Roche-Posay Anthelios Sunscreen
Price:
Summary
WE LIKE
This sunscreen is fragrance-free and gentle enough for sensitive skin
The sheer, lightweight texture of this sunscreen applies easily. No pasty residue here; just a smooth, matte finish
Great everyday sunscreen that can also be worn under makeup
Provides broad-spectrum sun protection with its multi-patented Cell-Ox Shield XL filtering system
WE DON'T LIKE
It doesn't "walk the talk" when it comes to providing a superior antioxidant boost: the formula does not include that much antioxidants contrary to what it claims on the label
WHERE TO BUY IT
OTHER NATURAL SUNSCREENS
At a glance
Which skin solutions is La Roche-Posay Anthelios Melt-In Sunscreen Milk SPF 60 best for?
ACNE
AGING
DULLNESS
DRY
OILY
SENSITIVE
Formulated WITHOUT
Key ingredients
Avobenzone, homosalate, octisalate, octocrylene, and oxybenzone; sunscreen filters
Senna alata leaf extract; antioxidant that protects the outer layers of skin from UV damage
Ethics: Values that the brand embraces
ORGANIC
CRUELTY FREE
VEGAN
ECO FRIENDLY
One month with La Roche-Posay Anthelios Melt-In Sunscreen Milk SPF 60
Rule of thumb when it comes to sunscreen – wear it all day, every day. Even though it's common knowledge (and, hopefully, common practice!) that you should wear SPF all year round, sunscreen is often neglected outside of summer holidays.
Hands up if you're guilty of neglecting daily sun care (gasp!).
Whether you're a skincare diehard or not, it's time to take this skin-saver seriously. Not only wearing sunscreen does decrease the risk of skin cancer, but it also helps to prevent premature aging, pigmentation as well as dullness and texture.
So we searched for a sunscreen that we would actually wear and apply liberally every day and decided to put the popular La Roche-Posay's Anthelios 60 Melt-in Sunscreen Milk to the test.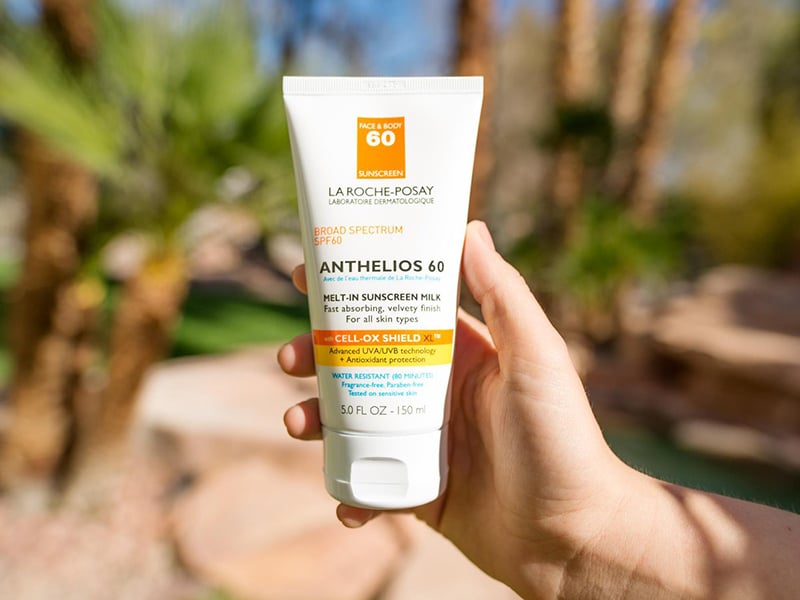 La Roche-Posay's Melt-in Sunscreen Milk does what the name says: it literally melts into skin. We love how comfortable this lightweight, matte-finish sunscreen is to wear. The non-greasy velvety texture absorbs in seconds into skin without leaving any sticky residue.
This sunscreen also goes the distance in terms of providing broad-spectrum protection. The formula contains high-efficiency sun filters to shield skin from harmful UVA and UVB rays and powerful antioxidants (vitamin E and Cassia alata leaf) to protect it further from UV ray-caused free radicals. For optimum results though, consider applying an antioxidant-rich serum under this sunscreen to boost your skin's free-radical defense.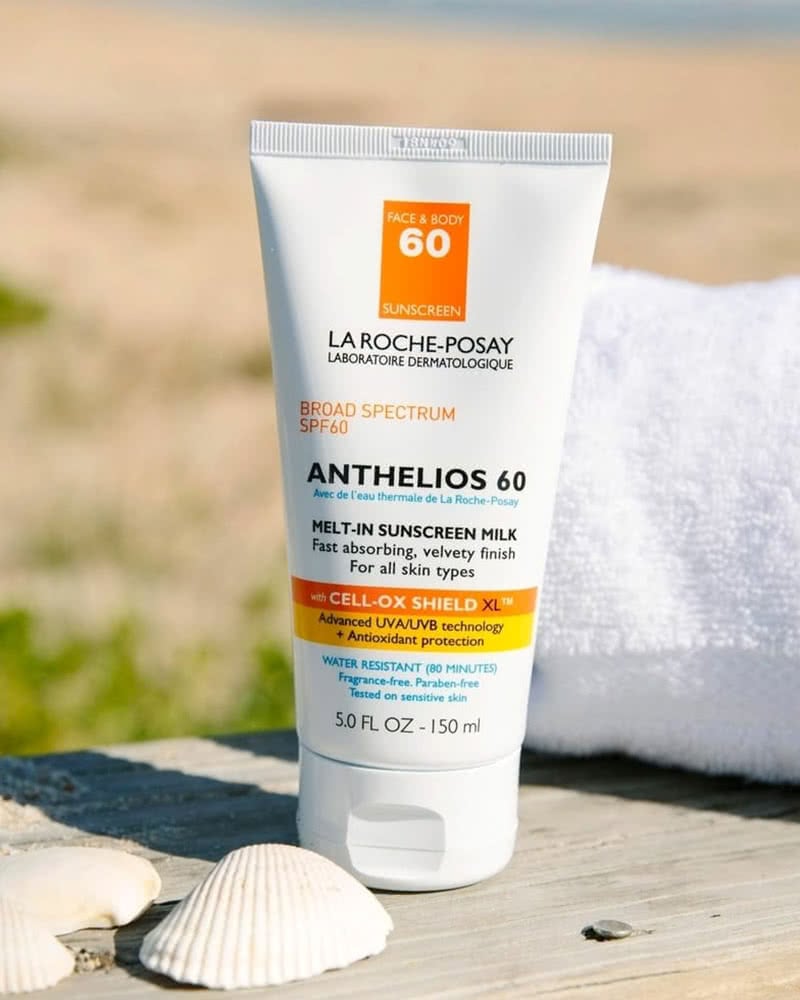 It's also water-resistant and hypoallergenic—so yes, it's our new go-to sunscreen (regardless of the weather).
How to use La Roche-Posay Anthelios Melt-In Sunscreen Milk SPF 60?
Apply generously onto face and body skin 15 minutes prior to sun exposure. Reapply after 80 minutes if swimming or sweating, and at least every two hours. If you towel dry, reapply immediately.
Results
The skin is shielded from sun damage and dryness with a smooth and silky layer of protection. Skin feels nourished, soft and smooth.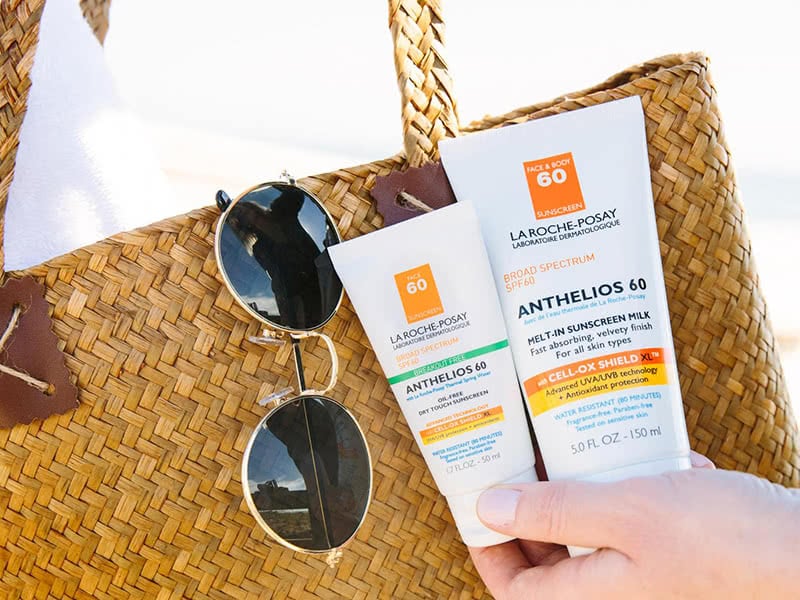 Who it's for
All skin types, for face and body use.
Suitable for sensitive skin.
Ingredients
ACTIVE INGREDIENTS
Avobenzone 3% (sunscreen), Homosalate 10.72% (sunscreen), Octisalate 3.21% (sunscreen), Octocrylene 6% (sunscreen), Oxybenzone 3.86% (sunscreen)
INACTIVE INGREDIENTS
Water, Styrene/acrylates copolymer, Polymethylsilsesquioxane, Butyloctyl salicylate, Cyclopentasiloxane, Glycerin, Dimethicone, Alcohol denat., Poly c10-30 alkyl acrylate, Caprylyl methicone, Trisiloxane, Acrylates/dimethicone copolymer, Peg-100 stearate, Glyceryl stearate, Phenoxyethanol, Potassium cetyl phosphate, Propylene glycol, Caprylyl glycol, Peg-8 laurate, Acrylates/c10-30 alkyl acrylate, crosspolymer, Triethanolamine, Tocopherol, Inulin lauryl carbamate, Disodium Edta, P-anisic acid, Xanthan gum, Diethylhexyl syringylidenemalonate, Cassia alata leaf extract, Maltodextrin.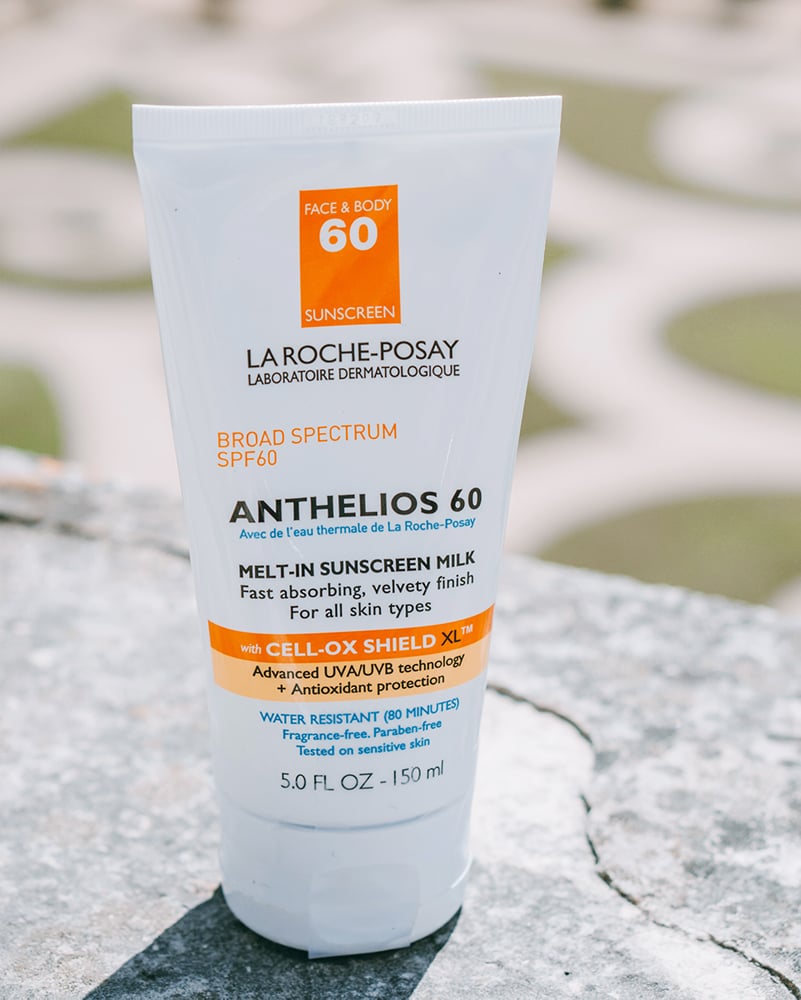 About La Roche-Posay
L'Oreal-owned La Roche-Posay offers a range of dermatological face and body skin care products that are suitable for sensitive skin. Known for its soothing and antioxidant (Selenium) properties, La Roche-Posay Thermal Spring Water in France is at the heart of most of La Roche-Posay skin care formulas. Using safe and effective ingredients, the line features advanced solutions for various skin concerns.
What's in the box
Size: 5 Fl. Oz. (150ml)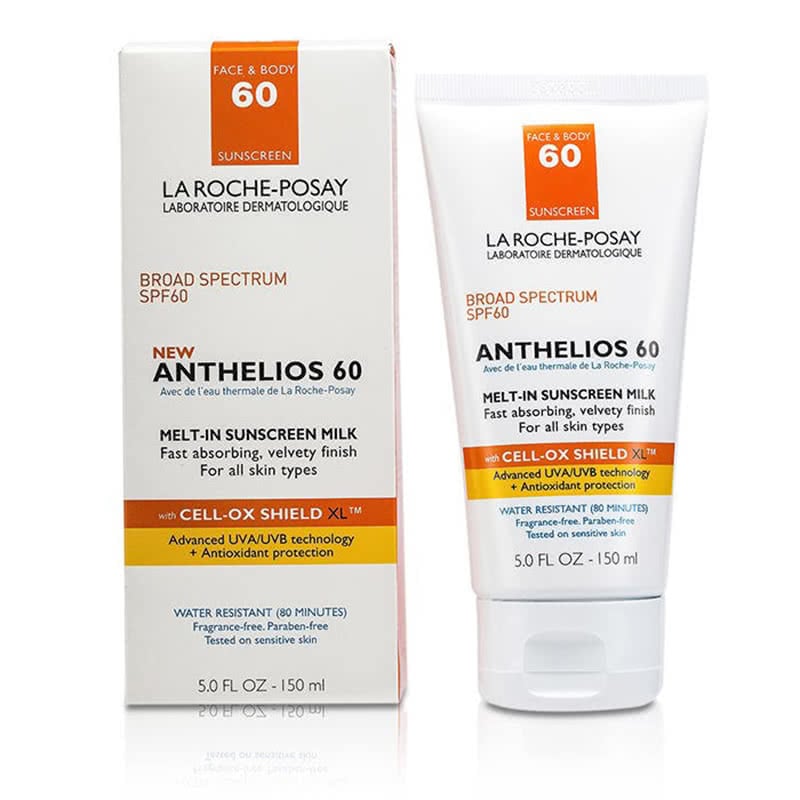 Price: How much does the La Roche-Posay Anthelios Melt-In Sunscreen Milk SPF 60 cost?
This sunscreen from La Roche-Posay costs
for 5 Fl. Oz. (150ml).
Other great face sunscreens
La Roche-Posay Anthelios Melt-In Sunscreen Milk SPF 60 FAQs
Question: Is this milky sunscreen non-comedogenic?
Answer: Yes, La Roche-Posay Anthelios Melt-In Sunscreen Milk SPF 60 is a non-comedogenic sunscreen, so you can apply it in peace knowing that your skin won't break out.
Question: Can this sunscreen be applied on face and body?
Answer: Yes, this sunscreen can be used anywhere on the face or body to protect your skin from UVA and UVB damage.
Question: How can I contact La Roche-Posay customer service?
Answer: You can call their toll-free (1-800-560-1803). You can also check their website for more information.
Product reviewed:
La Roche-Posay Anthelios Melt-In Sunscreen Milk SPF 60
Our rating: 9.5 / 10
Summary: La Roche-Posay Anthelios Melt-In Sunscreen Milk SPF 60 is a lightweight, oil-free, fragrance-free and non-comedogenic sun cream with a higher SPF level for those needing even more protection.
Reviewed by: Samantha Woodworth
Last updated: February 16, 2019

Photos by Beauty Wise Up and La Roche-Posay.